Subject Vision (Intent, Implementation, Impact)
Our intent through the English curriculum is to ensure that children develop the skills and knowledge that enables them to communicate effectively and creatively through spoken and written language and to equip them with skills to become lifelong learners. We will help children to enjoy and appreciate literature and develop a passion for reading.
Everyday, we teach reading and writing in varied and lively ways, as well as promoting reading and writing in all subjects.
Spoken Language
The quality and variety of language that pupils hear and speak are vital for developing their vocabulary and grammar and their understanding for reading and writing. It is our intent that the children at Ferndale develop a rich and diverse knowledge of language. This is implemented across the curriculum; we provide our children with a wide range of opportunities to develop their speaking and listening skills such as discussion, debate, presentation, drama and movie making. During speaking activities, we assist children in making their thinking clear to themselves as well as to others. Spoken language underpins the development of reading and writing and their knowledge across the curriculum, the impact of which can be seen in all subjects.
We became snails and travelled to different habitats. We described all the different things we might see on our journey and introduced habitat specific vocabulary.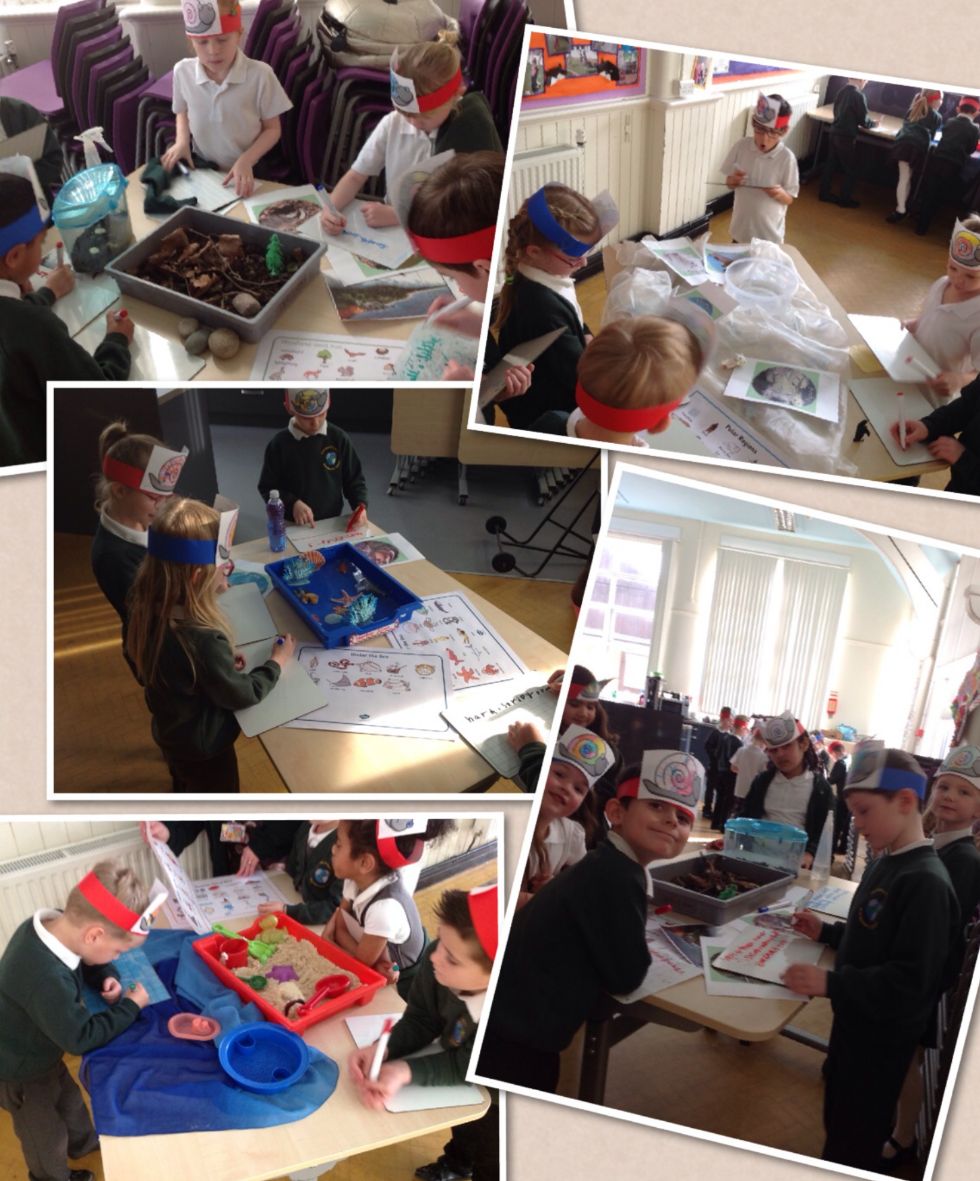 We retold the story of 'Charlie's bag' before writing our own versions of this story.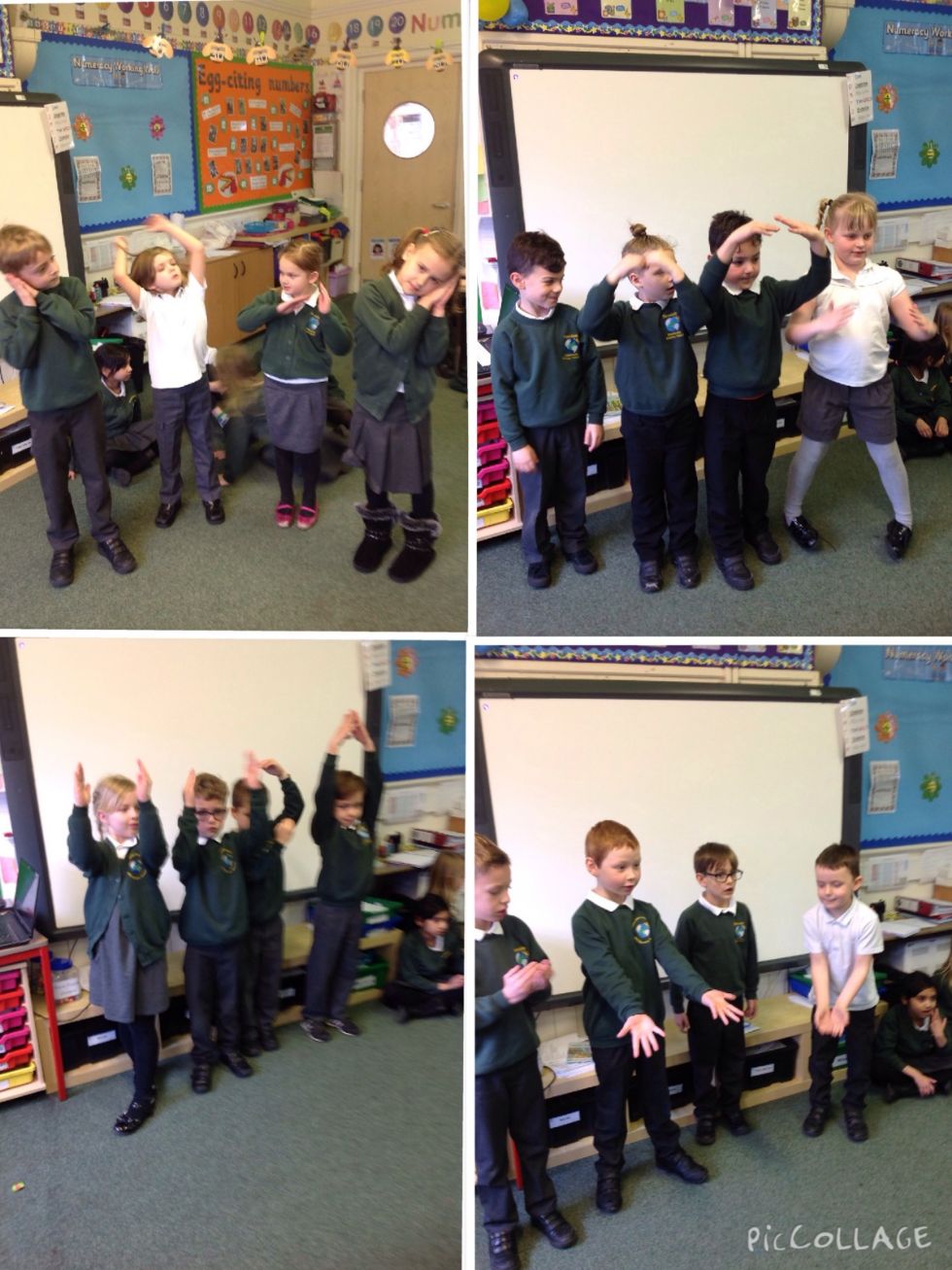 Reading
Our intent is that pupils learn to read fluently and with a good understanding. Reading enables pupils to acquire knowledge, develop a wide vocabulary and stimulate the imagination. It helps pupils to develop culturally, emotionally, intellectually, socially and spiritually. Through reading high quality literature, pupils develop a good understanding of the world and a love of reading.
Learning to read comprises of two core elements: word reading and comprehension. We implement the teaching of these skills in a range of ways. Through quality phonic teaching which begins in Nursery, we put a lot of effort into ensuring our pupils quickly learn to read words. We use the 'Letters and Sounds' approach to teach phonics and use 'Phonicsplay', a computer based resource, to further help the pupils learn to read and write sounds. Pupils are taught to read tricky high frequency words and are given 'coloured' books to read at home that match their phonic and word knowledge; this boosts the childs' confidence in reading. In addition, pupils are rewarded for reading regularly at home by '30 reads prizes and a book when they reach 300 reads.
We use book 'bands' to enable a clear progression in reading through the use of a variety of quality reading texts. We use a range of books from a variety of schemes that incorporates different genres and text types.
Our New Library Area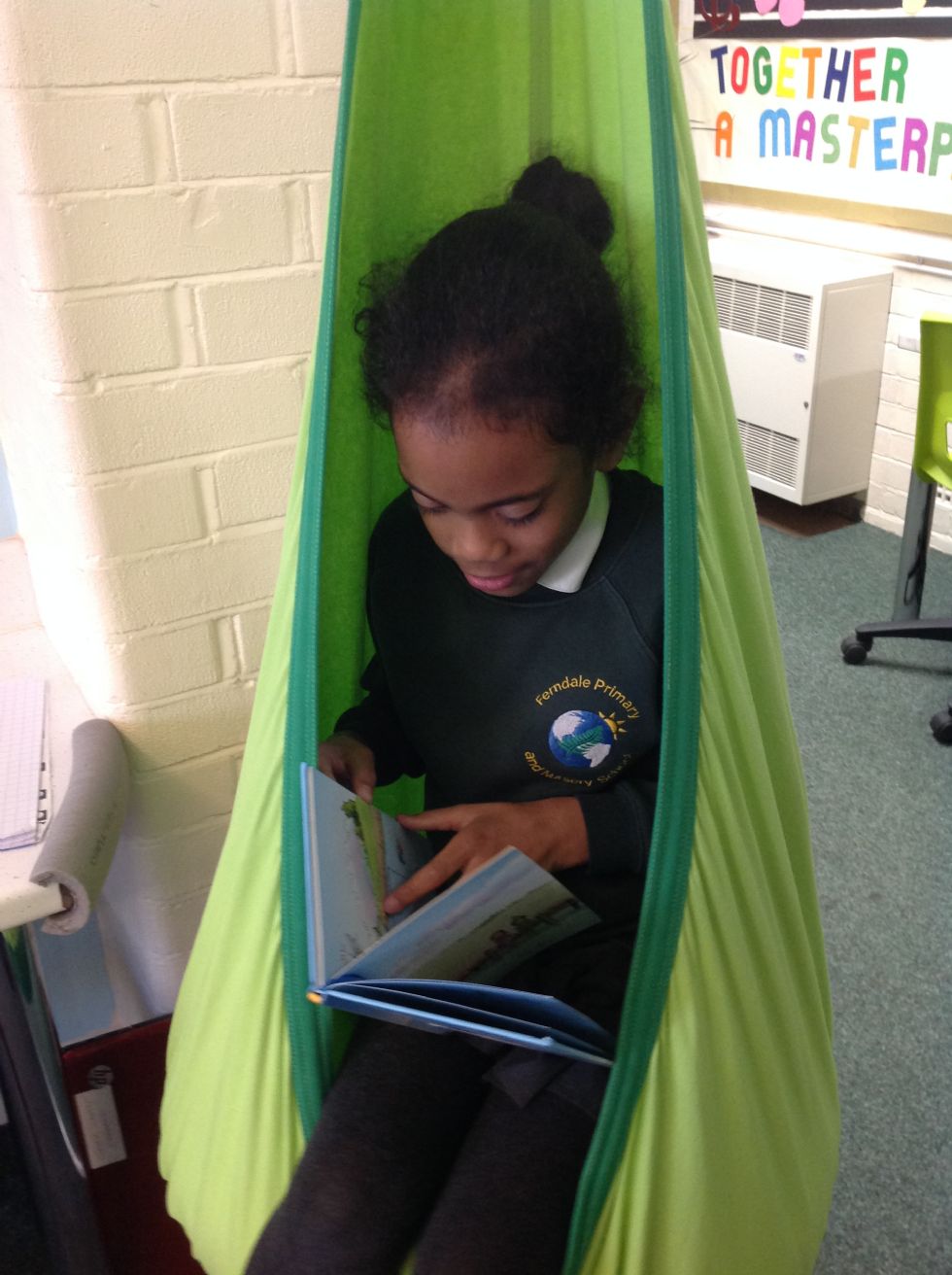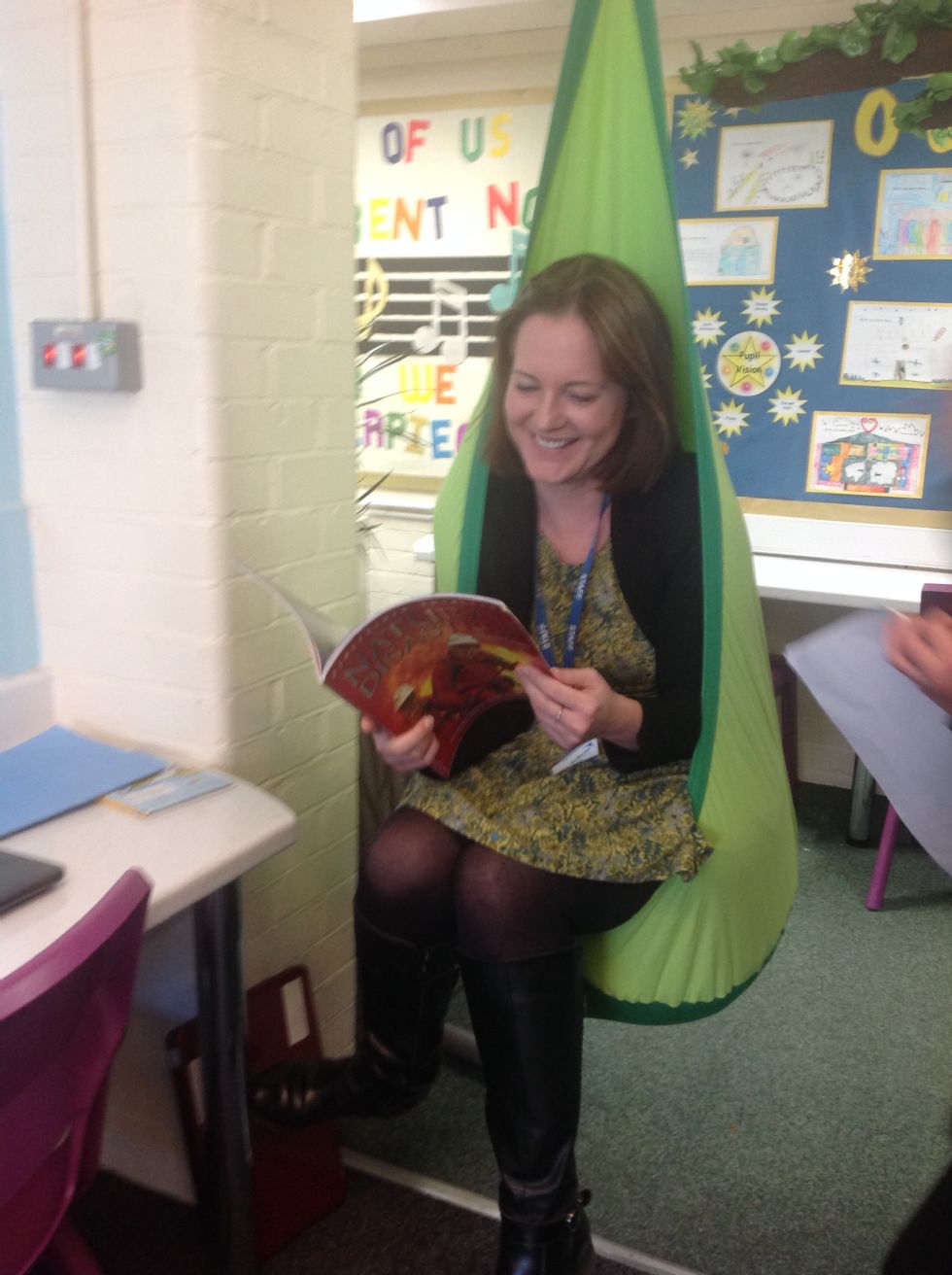 Reading Expectations at home
Year group

Expectation – at least…

Focus

Nursery

Share stories and rhymes together to develop language and a love of reading.

Reception/Year 1

10-15 minutes,

5 x week with an adult

Read text and discuss it.

Year 2/Year 3/Year 4

15-20 minutes,

5 x week with an adult

Discussion: to develop comprehension and inference skills.

(See questions)

Year 5/Year 6

20 minutes,

5 x week with an adult

Discussion: to develop comprehension and inference skills.
Teachers read to the pupils daily so that they get to know a range of stories, poetry and information books, promoting reading for enjoyment, a love of books and the development of knowledge and language. Through reading 'Miss Alaineus' by Debra Frasier, we now hold an annual 'Vocabulary Parade' where pupils come to school dressed as word. We have had focus author weeks (David Williams and Roald Dahl) and a poetry week to encourage the pupils to read for pleasure. We are currently rejuvenating our school library to create an enticing, stimulating reading environment where the pupils want to come and read.
World Book Day
Every year on 'World Book Day', we have a vocabulary parade to help us develop our knowledge of language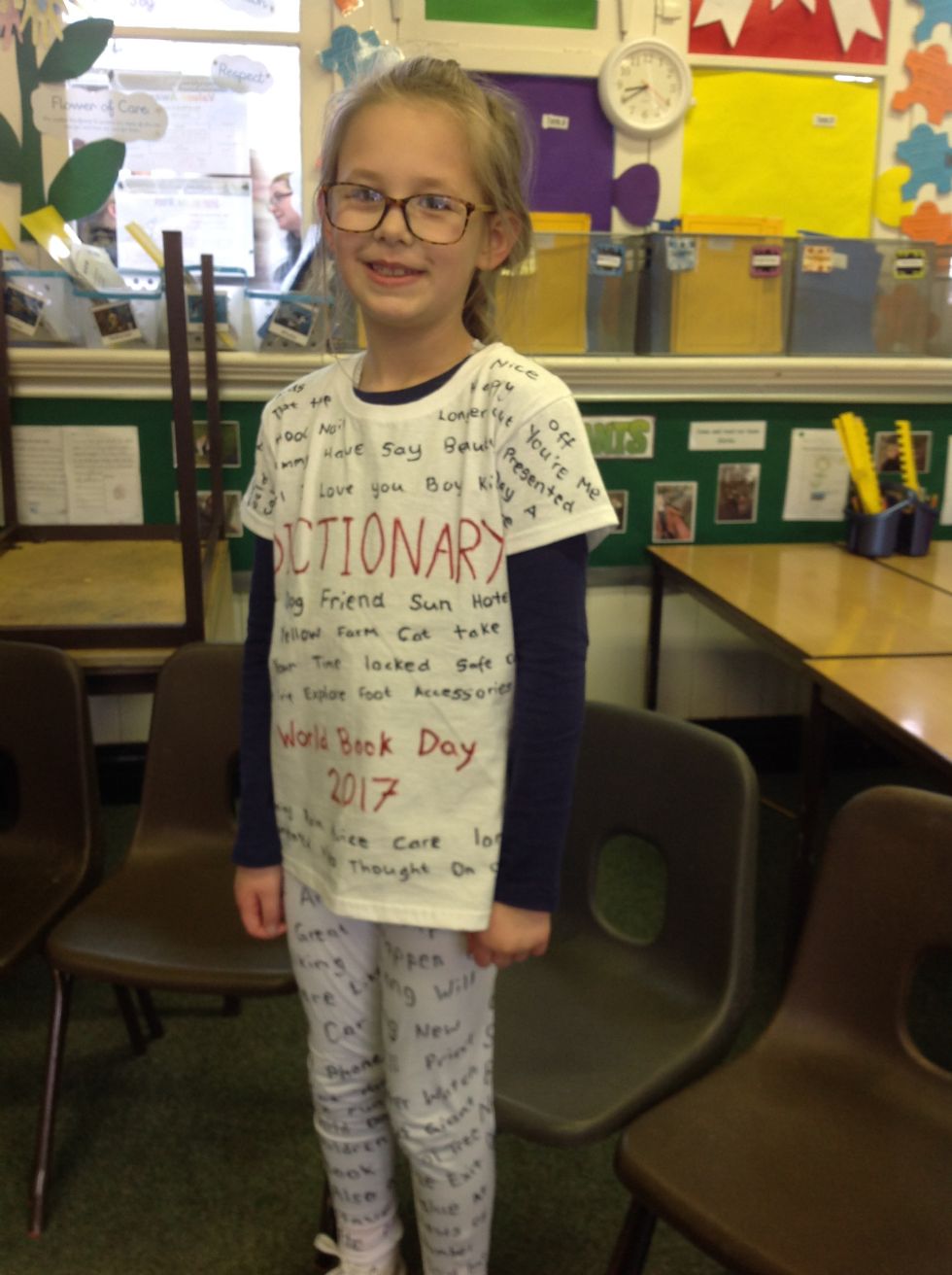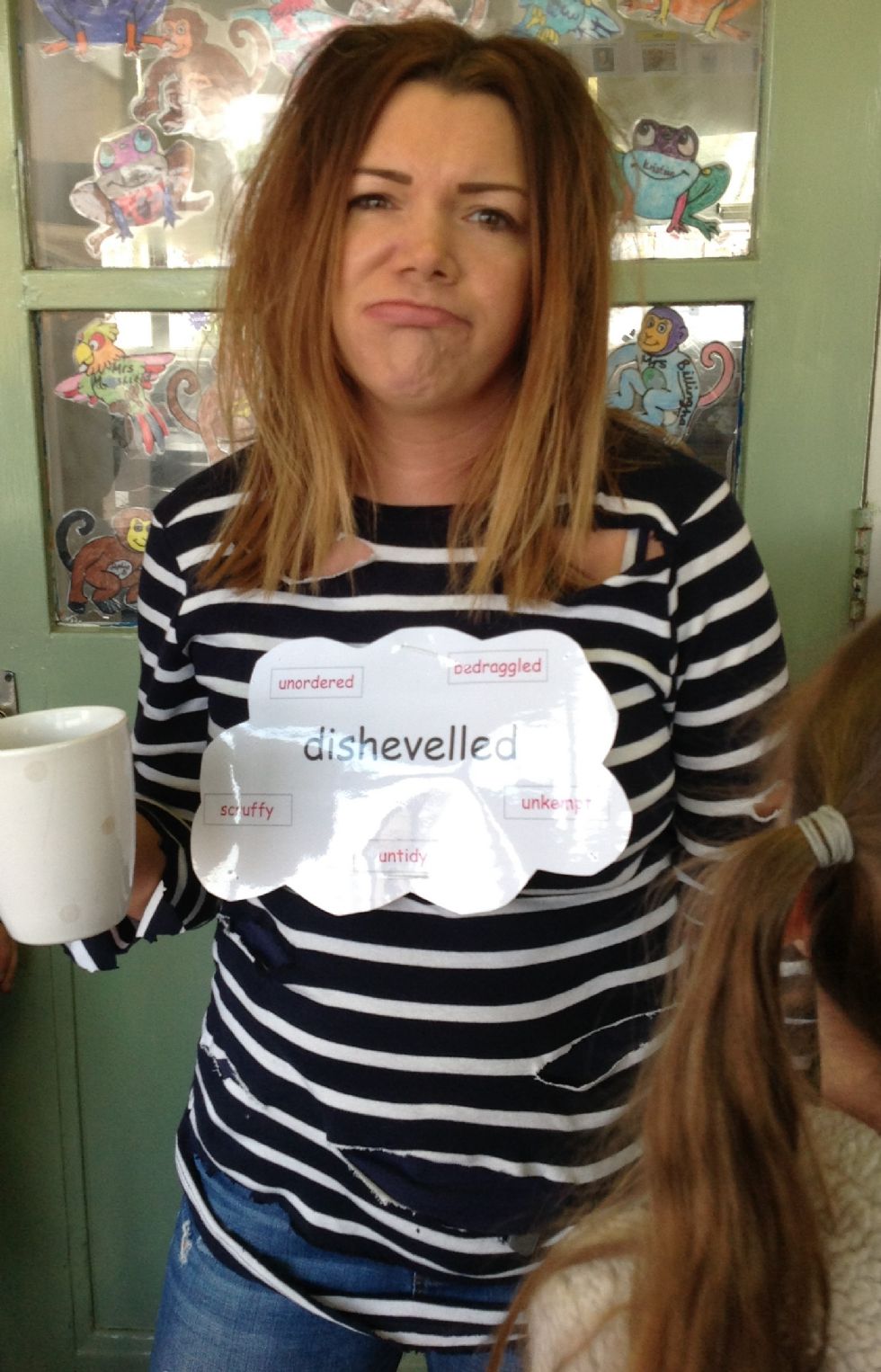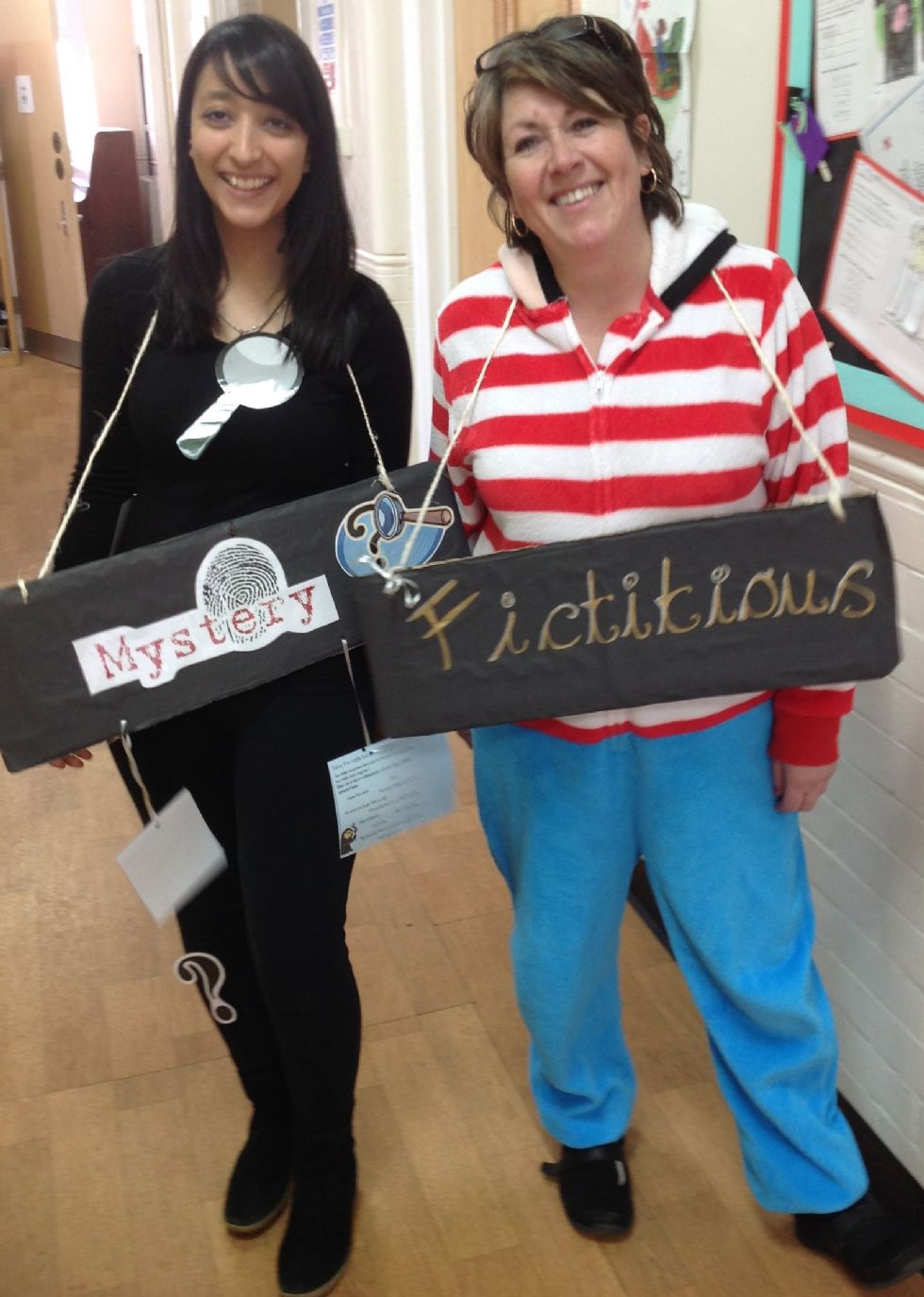 Comprehension and Inference
In Early Years and Key Stage One, the pupils' understanding of a text is developed orally through opened ended question and through discussing the meaning of words. From year 2 upwards, in reading sessions pupils are taught how to find evidence in the text to back up their ideas. With the support of a teacher, they are taught the wider skills of reading and are given the opportunity to look at texts in more depth.
When reading with your child at home, in order to help them understand the text further you can ask the ask them a range of questions that encourages them to retrieve information, infer information or encourages them to give their own thoughts and opinions.
Questions to develop comprehension skills
Can your child find evidence directly and indirectly from the story?
What did……… do?
How many……… were/are there?
Where did it happen?
Who was there?
Who are………?
How does he describe it?
How do you make/do……?
What happened when……… did………?
What happened to………?
How is the character feeling? How do you know?
Can your child answer questions without referring to the story?
Have you ever....?
If you could....?
If you were going to....?
In your opinion...?
Do you agree with...? Why...?
Do you know anyone who...?
How do you feel about....?
What do you think will happen next...?
Writing
At Ferndale, our intent is for our pupils to become fluent, articulate and entusiastic writers. We teach the writing objectives of the National Curriculum using an exciting cross-curricular approach, and feel it is important to give pupils rich experiences to inspire writing and to provide a strong purpose where possible. We look for ways to motivate and inspire pupils so they see themselves as 'writers'.
An archer from medieval times came to visit our school and taught us how to do archery. We used all the information he told us to write a non-chronolgical report about archers.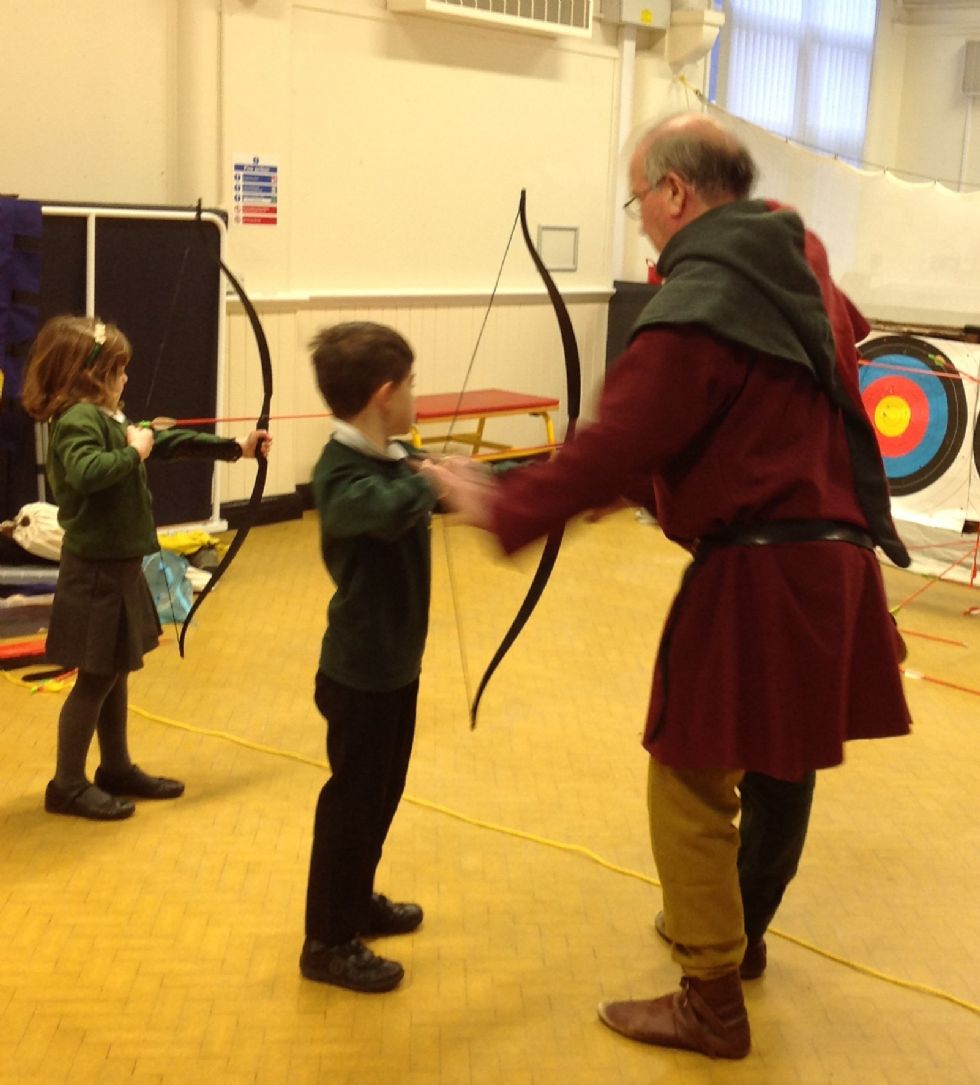 How is it implemented?
At Ferndale, we believe that pupils need to hear how sentences are spoken, speak these sentences aloud and then read and analyse them written in a text before attemptig to write them for themselves. We use carefully chosen or created model texts as well as live modelling and shared writing so that pupils can see the process involved in creating a piece of writing. Re-reading and editing is an important part of the writing process and this is modelled to the pupils during shared writing sessions. The pupils are given time to edit and improve their writing and they are encouraged to evaluate both with the teacher and with peers. We ensure the pupils have the opportunity to write for a range of contexts, purposes and audiences.
We recognise the vital importance of exposing our pupils to a rich and varied vocabulary and understand that their acquisition and command of vocabulary are key to their learning and progress across the whole curriculum. We aim to increase pupils' store of words, help them make links between known and new vocabulary and discuss shades of meaning. We use model texts and class novels to teach vocabulary in context and encourage discussion around word choices when both reading and writing. Additionally, each year group focuses on a 'Word of the Week' which has been carefully selected to relate to the week's writing focus. We encourage and support pupils to be ambitious and precise in their vocabulary choices when writing their own pieces.
Where possible, our teaching of the grammar requirements of the National Curriculum are embedded into our writing lessons because we believe that grammar makes most sense it it is taught as an active process, related to the teaching of writing and reading. We encourage pupils to see the joys of language and to enjoy finding just the right words or phrases to express what they want to say.
Spelling
The ability to write ideas down fluently requires a good understanding of spelling. In Key Stage 1, we follow the 'Letters and Sounds' approach and teach pupils how to write phonemes as graphemes. We use 'Phonicsplay', 'Spelling Play' and 'Rising Stars' to support our teaching. In Key Stage 2, we use the Rising Stars spelling scheme. These schemes ensure full coverage of, and progression within the National Curriculum requirements.
We use a range of strategies to support pupils with their spelling:
Phonetic spelling strategies. Segmenting, to see how a word is composed of individual sounds, is crucial for spelling.
Visual spelling strategy. Learning how a word looks and visualising the word can be an effective strategy.
Rule-based strategies. Pupils are taught through investigations to understand rules behind spelling patterns.
Word-meaning strategies. Helping pupils understand what words mean can support their spelling of those words. Explaining how words are derived, how prefixes and suffixes are added on to root words and how to form compound words, can all support confidence and accurate spelling.
We also encourage the pupils to develop their use of dictionaries and other tools to check their spelling.
Spelling bees are held in year groups on a termly basis. These fun events aim to raise the profile of spelling across the school and to encourage pupils to learn the statutory words for their year.
Handwriting
In the early years and year 1, pupils complete fine motor activities to develop finger strength and are taught how to hold a pencil correctly. Pupils are taught correct letter shapes and formations.
From year 2 onwards, through weekly handwriting lessons, we begin to explicitly teach correct joins, consistent letter size and clear ascenders and descenders. Additional support is given through handwriting interventions where needed.
In Key Stage 2, pupils who demonstrate good handwriting are awarded a handwriting licence. This enables them to use handwriting pens and to further develop their fluency.
We use 'letterjoin', an interactive computer based resource to develop letter formation and joining. This resources can be accessed at home free of charge, please ask in the school office for the password.
Assessment
Assessment and monitoring enables us to evaluate the impact of our teaching and ensure the children are making good progress. This enables us to set up relevant interventions where required. The tables below show the outcomes for children at the end of Foundation Stage, Key Stage 1 and Key Stage 2, compared to national levels for the academic year 2017-2018.
Age expected

School

National

Reading

77.2%
77.1%

Writing

75.4%

73.3%
Key Stage 1
Age expected

Greater Depth

School

National

School

National

Reading

81.4%
75.5%
27.1%
25.6%

Writing

76.3%

69.9%

15.3%

15.9%
Key Stage 2
Age expected

Greater Depth

School

National

School

National

Reading

81%
75%
37%
28%

Writing

83%

78%

22%

20%

Spag

81%

77%

35%

34%