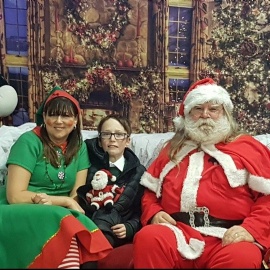 This year, there will be various events happening across the month of December for our pupils to enjoy. This will start off with our Christmas tree topper competition. Your child can design and make a topper for our school Christmas tree in the main hall. Entries must be submitted by 1st December and the winner will get a prize as well as having their design placed on the tree during our first Friday assembly in December.

Our Christmas raffle prizes will be announced at the end of our 'Carols by Candlelight' event which will take place on the 7th December.

Our main Christmas activities will take place on Friday 8th December when we have invited Santa to visit us. We have invited him to have breakfast with the nursery children and will be running a Santa experience from 1-2pm. If you would like your child to meet Santa, you can either purchase a ticket for the nursery breakfast (nursery only), Santa experience (limited tickets) or a photo with Santa. Further information on how to purchase these will follow.
Our Christmas Wrap event will take place on 14th December (so please send in your donations).